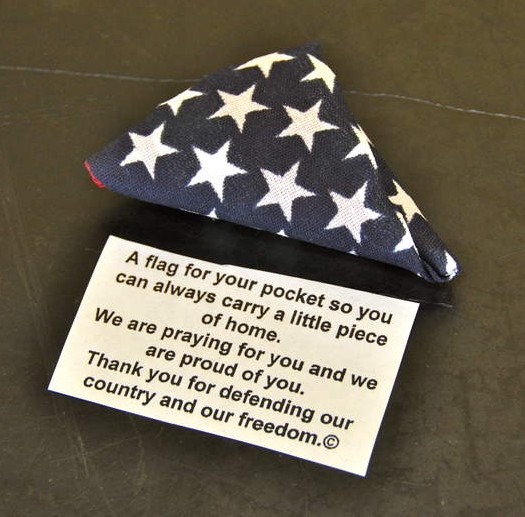 The Pocket Flag Project was conceived in October 2001 when LuWanda Ford visited with fellow Boy Scout leaders who were veterans of the Vietnam and Gulf Wars. Both Scout leaders carried small, folded flags in their left shirt pockets and shared how important these flags were, and are, to them.
Inspired, Ford adapted the idea into a project for her Cub Scouts to develop patriotism and pride for our country while supporting our military troops. After folding and packaging 100 flags, the Scouts presented them to local Naval Reserve representatives. Her 9-year old son  told an attending reporter that the flags were going "to all the soldiers in the war". The Pocket Flag Project has since grown into an international non-profit project.
In addition to learning about the U.S. flag and the sacrifices of our military, volunteers fold and package flags to send to our front line and deployed troops. Included with each flag is a card that says: "A flag for your pocket so you can always carry a little piece of home. We are praying for you and we are proud of you. Thank you for defending our country and our freedom." There is room on each card for volunteer groups to include a personal message or return address for thank you notes.
It is our goal to get as many pocket flags as we can into the pockets of our deployed troops. They serve as a pocket full of home, hope, love and support. As of December 2003, there were groups in all 50 states as well as Germany, Japan, and Cuba who were committed to this project. As of November 2017, the Pocket Flag Project had distributed nearly 2.5 million flags.
Learn how you can get involved with the Pocket Flag Project here.